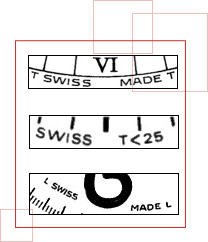 Here is the "T" ...

This "T" indicates that radioactive material, i.e., tritium (that's why it is a "T") is used in this watch. Don't worry: the radiation will definitely not be harmful to the person wearing this watch. The "activity" used in watchmaking is limited to a value of 25 mCi (milliCurie) which means that no radiation will pass through glass and/or case of this watch.

Some manufacturers make a special point of mentioning that they do not use the maximum allowed activity and put additional information on the dial:
"T < 25" means that the activity of the luminescent material is below the legal limit.

If, on the other hand, you find "T 25" on a watch, the manufacturer informs you that he has used the highest allowed activity; this is sometimes necessary for special purpose watches, esp. for deep-sea diving.

If you need a dial or hand replacement for such a "T" watch, it will be necessary to send it to the factory; handling and working with tritium requires special safety precautions and permissions that are usually beyond a "normal" watchmaker's possibilities. Tritium-filled hands are likewise usually not available from watch parts specialists.